Boulder ~ Ft. Collins CO

Cell Phones for Soliders Drop Off
Official Boulder ~ Ft. Collins Area Drop-Off Facility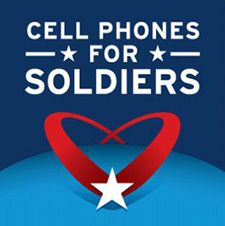 Columbine Appliance & Fireplaces is proud to be doing our part in helping the greater Boulder ~ Ft. Collins area support our troops. As an official Cell Phones For Soldiers Drop-Off Location, customers of Columbine Appliance & Fireplaces and residents of the greater Boulder ~ Ft. Collins area can drop off their slightly used or newer cell phones at our shop (during normal business hours) for the benefit of our military members overseas serving our great nation. Donated phones are resold or scrapped and proceeds go to providing lifelines for America's bravest.
About Cell Phones For Soldiers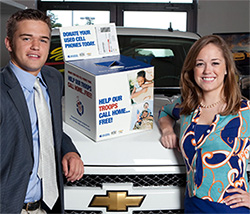 Cell Phones For Soldiers was founded by Robbie and Brittany Bergquist of Norwell, Mass., at the ages of 12 and 13. Since 2004, Cell Phones For Soldiers has provided free communication services to active-duty military members and veterans. The charity works with volunteers across the country to collect and recycle cell phones to benefit military members. The proceeds from recycling the phones are used to fund the charity's two programs, Minutes That Matter and Helping Heroes Home.
Minutes That Matter, the charity's long-standing program, provides free calling cards to servicemen and women. Since 2004, the charity has provided more than 210 million minutes of free talk time for troops and veterans. Calling cards can be requested from the charity's website, cellphonesforsoldiers.com.
The newest program, Helping Heroes Home, was created July 2012 to aid veterans with emergency financial assistance. The program assists with one-time emergency needs such as providing a cell phone and service; computer and internet; paying for rent to avoid eviction; imperative car repairs; and more. Veterans in need of assistance can apply online at cellphoensforsoldiers.com.
Used mobile phones from all service providers are accepted. Each $5 contribution, or donated device valued at $5, will provide troops and veterans with 2.5 hours of FREE talk time. The organization has prevented more than 11.3 million cell phones from ending up in landfills.
Questions & Answers
Q:

Is Cell Phones For Soldiers a 501(c)(3) nonprofit organization?
Absolutely. Their 501(c)(3) tax exemption letter may be viewed by clicking here.

Q:

May I drop off any type of cell phone?
Yes, you can drop off any and all types of cell phones from any carrier at Columbine Appliance & Fireplaces. Gently-used and newer phones are most desired, however, proceeds are still generated from the recycling of broken and dated telephones. Chargers and accessories are not required to donate. Instruction manuals are not necessary and should not be dropped off.

Q:

How do I donate a cell phone?
If desired and instead of dropping off phones at Columbine Appliance & Fireplaces, phones can be mailed directly to the Cell Phones For Soldiers recycling partner at the address listed below:

Cell Phones For Soldiers
4500 Cambridge Rd, Dock Door 9/10
Fort Worth, TX
76155-2234

Q:

What happens with cell phones donated at Columbine Appliance & Fireplaces?
All cell phones dropped off at Columbine Appliance & Fireplaces are shipped to Cell Phones for Soliders and are sold either to an electronic refurbisher or a recycler. When received, a donated cell phone is quickly wiped of all personal information and inspected to see if it is repairable. A cell phone that is repairable is sold to an electronic refurbisher who will repair the device and resell it in the aftermarket. However, cell phones that are either too old or completely broken are sold to recyclers who strip the devices of any salvageable components and/or rare metals and then responsibly recycle the remaining parts. The proceeds from the phones are used to purchase prepaid international calling cards for troops and provide emergency financial assistance to veterans.

Q:

Is there a way I can erase my personal data BEFORE the phone is dropped off at Columbine Appliance & Fireplaces and shipped to Cell Phones For Soldiers?
Yes. If your cell phone has a SIM card please remove it prior to dropping it off at Columbine Appliance & Fireplaces. You can also search the internet for "factory reset" and your specific make and model of your phone for instructions on wiping all personal information.

Q:

Does Cell Phones For Soldiers send the donated cell phones to America's troops?
No. It is a common misnomer that Cell Phones For Soldiers sends donated cell phones directly to deployed troops. Why is this not a viable option? First and foremost, cell phones can be security hazards for military members in combat zones. Also, the cost of international phone calls using a cell phone is very high, making this option extremely cost prohibitive. In addition, a majority of the cell phones received by the charity do not have international calling capabilities.

Q:

Can I request a calling card for a specific military member or unit?
Yes. By providing a valid APO address, Cell Phones For Soldiers can directly mail or email cards to troops. Calling cards can be requested here.

Q:

May I make a monetary donation instead of dropping it off at Columbine Appliance & Fireplaces?
Online Monetary donations can be made here. You may also send a check or money order directly to:

South Shore Savings Bank
c/o Cell Phones For Soldiers
400 Washington Street
Norwell, MA
02061